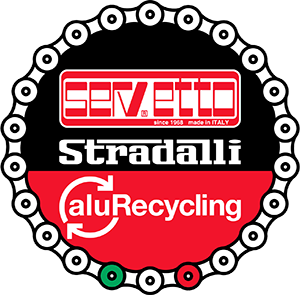 The Consortium continues to support sports and promote an increasingly important and popular ecological message in 2018:
"Appropriate separate collection of aluminium has huge benefits to offer the environment, because aluminium is 100% recyclable an infinite number of times, saving vast quantities of energy and materials, up to 95%".
In addition to a partnership with the Astana men's team, with which the Consortium has promoted numerous initiatives in the local area and on the web with the involvement of super-champions Vincenzo Nibali, Michele Scarponi and Fabio Aru,  all aimed at promoting awareness of recycling, CIAL has also signed an agreement with one of the most promising professional women's cycling teams, Servetto Stradalli Alurecycling, a team from Piedmont registered with the UCI – Unione Cyclistice Internationale, the world-wide organisation that coordinates international cycling competitions and brings together all the world's national professional cycling federations – whose athletes will participate in all the most important competitions scheduled for 2018, including the Giro d'Italia and the Tour de France.
[youtube src="btt_xopLXZA"]
The team's first competition is scheduled for tomorrow, Saturday March 3: the Strade Bianche Women Elite, the first trial on the UCI Women's World Tour 2018 Calendar, starting and ending in Siena. The women's trial is 136 kilometres long, with eight sections on gravel roads, starting at the Medici Fortress in Siena and ending back in the world-renowned Piazza del Campo, making the Tuscan town the symbol of an event that has rapidly gained great prestige.
Team Manager Dario Rossino summoned the following athletes for the Strade Bianche competition: Sara Casasola (Italy), Argyro Milaki (Greece), Katja Jeretina (Slovenia), Anna Potokina (Russia), Paula Sanmartìn Rodriguez (Spain) and Kseniia Dobrynina (Russia).
At the end of the race they will be joined by Rosalia Ortiz Hano of Spain to run in Sunday's Trofeo Oro in Euro, an Open trial held in Cinquale di Montignoso (MS).
The team will be officially presented on March 10 in Asti, but we already know that the young women will be perfect testimonials of an ecological message about recycling aluminium in Italy and all over the world, especially in Europe.
A message about ecology which covers not only recycling, but values linked with sustainable mobility that have increasingly been gaining consensus, and which CIAL embraced a number of years ago through an object symbolising aluminium recycling: the Ricicletta®, a city bike made from 800 recycled aluminium beverage cans.
With their intense activity on the web and the social networks, and above all in the saddle, the cyclists educate the public about the strong bond between cycling and ecology.
Here are some photos of them.