Aluminium Packaging:
from Circular Economy
to Circular Responsability.
Everyone involved in the aluminium packaging chain is responsible for his or her own actions and has a part to play in promoting an advanced concept of sustainability based on cooperation, in the interests of all.
By Circular Responsibility, CIAL means a virtuous circuit of behaviour that unites everyone involved in the aluminium packaging industry and produces effects which are beneficial in every way: environmental, economic and social.
We no longer think in terms of the old-fashioned pyramid, with companies at the top and citizens at the bottom, but imagine a circle including:
researchers and designers (working on sustainable packaging design solutions)
manufacturers (taking care to minimise the environmental impact of processes and products)
companies using packaging (who prefer the technical and environmental qualities of aluminium packaging)
conscientious consumers who carefully separate their wastes, and local enterprises effectively and efficiently managing separate collection and recycling.
All these people together are the reason why aluminium packaging is 100% sustainable.

Designers
Committed to the ongoing search for technical and environmental solutions guaranteeing the best performance for long-term storage and protection of products while facilitating separate collection and recycling of aluminium packaging.

Manufacturers
Careful to respect the rules and aware of the importance of prevention by minimising consumption of materials and energy through processes capable of reducing scrap, continuously reusing it for production of recycled and infinitely recyclable packaging.

Distributors
Conscientiously preferring aluminium packaging for its infinite qualities and performance ensuring a long, safe shelf life for products, aware of the benefits of this ecological material.

Consumers
Aware of the importance of their purchasing decisions and post-consumer behaviour ensuring quality collection and recycling.

Collectors
Committed to setting up increasingly efficient and effective management systems for separate waste collection, treatment and preparation for recycling.

Recyclers
Ready to receive and use scrap packaging and many other end-of-life goods which can be endlessly reused in aluminium production processes, saving 95% on energy consumption and greatly reducing CO2 emissions through recycling.
Here is our video manifesto, 'Aluminium Packaging: Naturally Green'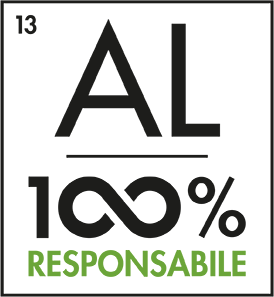 AL 100% Responsible
The "AL 100% Responsible" logo was created to effectively convey the intrinsic value of aluminium and its 'responsible' character.
Aluminium packaging is 100% recyclable an unlimited number of times.
How can anything be more responsible and circular than that?
All players in the supply chain are invited to share and embrace the AL 100% Responsible logo, a concrete symbol of adhesion to these values.