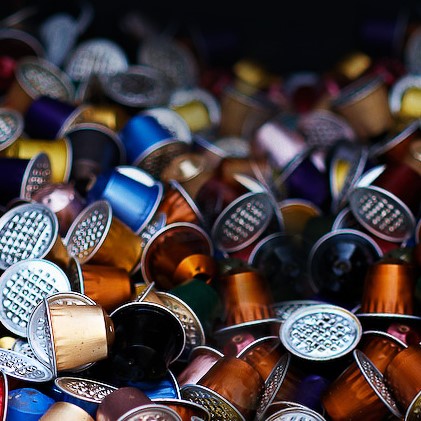 Coffee capsule collection and recycling
In February 2011, CIAL, Utilitalia, the CIC Consortium and Nespresso Italia signed an agreement for the development and management in Italy of the Da Chicco a Chicco project that Nespresso has implemented worldwide.
The agreement was renewed in 2014 and again in July 2018.
It is a project for collecting and recovering coffee capsules, made entirely of aluminium, through a linear model divided into three phases:
collection at Nespresso points of sale, where customers can take their used aluminium capsules
delivery of the collected capsules to a processing plant equipped with the appropriate technology for treatment and separation of the two portions of the waste (aluminium and coffee grounds)
recycling of the aluminium in a smelter and the coffee grounds at a composting plant.
Why recycle coffee capsules: results and goals
CIAL has supported Nespresso in the technical and design aspects of the project and has involved Utilitalia member companies responsible for waste collection in the country on behalf of Italian municipalities in management of the collection, storage and transportation of used aluminium coffee capsules for recycling.
In almost 10 years of operation of the Nespresso initiative in Italy (2011 -2019), more than 4,500 tonnes of used coffee capsules have been collected, delivered by citizens and sent for recycling.
In 2019, collection grew 31% over the previous year to 1,335 tonnes of aluminium capsules delivered by citizens at collection points as of 31 December 2019.
This result has saved enormous amounts of aluminium and energy: recycling aluminium saves 95% of the energy used to produce aluminium from the raw material, while transformation of the residual coffee in the capsules into compost permitted production of 26,800 kg of rice, which Nespresso donated to the Italian food bank, Fondazione Banco Alimentare Onlus.
From collection of Nespresso capsules to aluminium recycling through CIAL
The programme therefore requires capsules delivered by citizens to Nespresso boutiques and collection points throughout the country for collection and treatment to separate the aluminium from the residual coffee, sending the two materials to two separate processes for reuse:
the aluminium is 100% recycled thanks to the collaboration and support of CIAL, Italy's national consortium for the collection and recycling of aluminium packaging, bringing it back to life in the form of objects we all use every day, from aluminium coffee pots to car parts;
the coffee is composted and used as a fertiliser for a plot of land chosen in partnership with the farmers' association of Pavia and planted with rice; the rice grown is purchased by Nespresso and then donated to the Banco Alimentare, which in turn distributes it to the needy through charitable organisations, including numerous soup kitchens.
Da chicco a chicco: support for Banco Alimentare
An important environmental protection project capable of guaranteeing recovery of important resources otherwise destined for disposal in landfills while supporting the food bank through an innovative circular economy approach.
The project is currently in operation through a network of 116 collection points which are growing rapidly all over Italy, in 69 different towns, including big cities such as Milan, Bologna, Florence, Venice and Rome.
In response to its customers' requests, Nespresso has created a practical search engine identifying places where used capsules can be delivered in each part of the country. Below is the link:
It might also interest you