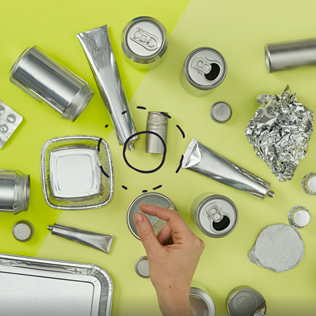 The 5 rules for collecting aluminium
Check that you have good habits!
Refer to the 5 rules for proper separate collection of aluminium packaging.
1 – Not just cans
Separate collection of aluminium includes not only the well-known aluminium beverage cans, but food trays and tins, including pet food tins, spray cans, tubes for creams, preserves, pharmaceuticals and cosmetics, aluminium foil such as kitchen foil and chocolate bar wrappers, lids, caps and other kinds of closures.
All these types of packaging are 100% recyclable an unlimited number of times.
2 – Never alone
Aluminium is (almost) never recycled alone – it goes with plastic and/or glass.
Check your local waste separation rules. If you need more information and explanations, contact the environmental office in your municipality.
3 – Dirty is fine, as long as it's empty
You do not need to wash or rinse aluminium containers. Just make sure all food (or other product) residues have been removed.
4 – Small but precious
Aluminium is precious. Recycling it permits enormous savings in terms of energy and environmental impact. For this reason even the smallest amounts – such as the screw tops of bottles containing water, wine, liqueurs or conserves, or the lids of yoghurt pots – must be collected and recycled.
5 – Compact and squashed
Separate aluminium from other materials – remove the top from the bottle, the lid from the yoghurt pot, the plastic cap from spray cans (do not remove the dispenser).
Squash, and bundle the smallest and thinnest pieces together. This will facilitate selection for recycling.
It might also interest you