"Circular Responsibility" is the new motto now accompanying and reinforcing the mission and vision of CIAL.
The new strategic positioning will be launched as part of the campaign 'Naturally Green'.
"For a long time we have taken for granted the ecological dimension of aluminium packaging and the intrinsic virtues that make this material a natural ally of the current ecological transition: lightweight, protective, ideal for preserving food, flexible, and, above all, infinitely recyclable and easy to collect and sort," comments Stefano Stellini, CIAL Communication and External Relations Manager. "The time has come to raise the awareness of institutions, companies and citizens and encourage them to realise that they are key players in the decisions and daily choices of a circular economy based on everyone's responsible action. The new concept of Circular Responsibility affirms that sustainability and the ecological transition are feasible and achievable for everyone, in real life".
The creative design behind the integrated campaign, which goes online today and is planned throughout 2021 on the main national media and digital channels and on CIAL's social profiles, with static and dynamic formats, focuses on and emphasises the distinctive traits – unique, natural and positive – that bring people and materials together and make their interaction the key to the success of "Naturally Green": developed in multi-subject form, it involves real people, that is, 7 people plus a cat, selected to represent different ages, ethnicities, and cross-cutting, universal lifestyles.

Lastly, the new AL 100% RESPONSIBLE logo makes its début as a natural visual synthesis of the strategic and creative thought behind the campaign. Inspired by the chemical symbol for aluminium in the table of elements (AL13), it accompanies and assigns to aluminium packaging the responsibility which, in CIAL's strategy, is increasingly intended to be the lowest common denominator of all the players involved in the supply chain: Institutions, producers, users, separate collectors, citizens.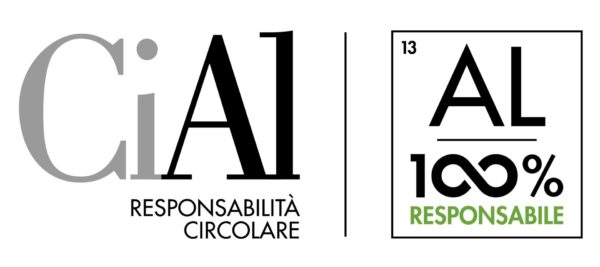 The CIAL communication campaign is intended to make a real, concrete contribution to the process of ecological transition in our country, which must be expressed in everyday life.