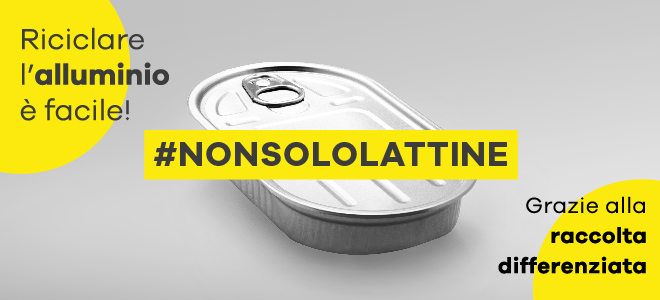 The new recycling targets set by the European Community – applicable also to the aluminium packaging sector – require the recycling of higher percentages. Achieving this will certainly need a commitment not only from the aluminium packaging industry but also from the public in carrying out separate refuse collection.
The separate collection of aluminium packaging in Italy is currently carried out by 6,741 Italian municipalities involving over 53 million inhabitants, 88% of the national total. Despite the widespread nature of the practice, performance can be improved by focusing people's attention on the different types of aluminium packaging that can be collected and therefore recycled.
A new campaign called #Nonsololattine (not just cans) has been launched by the CIAL Consortium to remind people, through a hashtag that can be easily used on the web, that they should not limit separate waste collection only to beverage cans – universally recognized as the definitive aluminium packaging – but should also include other types:
cans for meat, fish and pulses
trays for food preservation and cooking
spray cans
aluminium foil
tubes for creams, preserves, pharmaceuticals or cosmetics
caps and lids
Every aluminium packaging that, exactly like beverage cans, is infinitely and 100% recyclable.
From 6 November and running for three weeks, the 15-second "#Nonsololattine" radio ad will be on air across all national radio stations. Over the same period a video version of the same ad will be broadcast on the Facebook and YouTube social media channels, while a full-page, multiple subject print version has already appeared, for about 2 months, in magazines of the Cairo publishing house.
The campaign was devised by the communications office of the CIAL Consortium, and executed and produced by the k48 agency in Milan.
[youtube src="PLnSZCL0h-Y"]